Tribal Fusion Style – Technique Class with Shedriel
* In this 90-min live belly dance fusion workshop, participating dancers will be introduced to a variety of Tribal Fusion dance techniques, including bellyrolls and tummy flutter.  Dancers will also get the opportunity to learn a different beginner-level dance combinations signature of Shedriel® Tribal Style. In addition, your instructor Shedriel will use several different songs during the belly dance workshop to focus on musicality for the dancers.
Shedriel has three goals for your time together. Frist is to introduce the students to a new belly dance style. This style is referred to as Tribal dancel or Tribal fusion. Next, she wished to demonstrate how students can use the belly dance techniques they already know and combine them with new movement styles to create Fusion Belly dance. And lastly is to teach the technique of bellyroll and flutter.
Non-member registration.
only $14.99
The following area is members-only content. Unlock this archive videos by becoming a member today. 

Already a member? Sign-in below.
Shedriel® is an Argentinian belly dance teacher who graduated from Saida's School in 2013. She studied Belly dance with many artists also such as Amir Thaleb, Yamil Annum, Leandro Ferreyra, Shahdana, Aaliah, Maiada, Sarat, Hernan Soleiman, Yael, Isis.  Visit her at www.shedriel.com.ar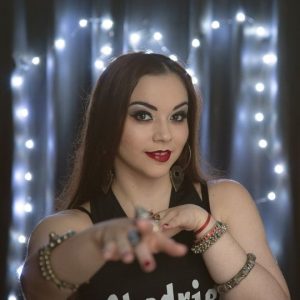 She has also studied Tribal dance style with many teachers such as her beloved Argentinian teacher Erika Gonzalez; and all the international and well-known teachers such as Mardi Love, Mira Betz, Ariellah, Lady Fred, Sharon Kihara, Michelle Sorensen, Ashley Lopez, Heather Stants, Natalie Nayun, Kami Liddle, SuperBeth and Tamarind Tribal Bellydance Company; and the amazing Rachel Brice.
In January 2017, she danced in Chili and learned more than 20 hours with the incredible and amazing teacher of FCBD Style Kae Montgomery. She took her examination and passed her exam with an Excellent and got the certification of Level 1 of Kae's "Tribal Style Technique Clinic" method.
In September 2017, she was hired to travel to Jakarta, Indonesia to take part in a Theatrical Dance Play called "Swan Lake Bellydance" produced by Desi Ardy and Berti Maylinda.
In December 2018, she returned to Chili to study 20 hours of pure formations of FCBD Style with her teacher Kae Montgomery.
In May 2019, Shedriel was chosen to be one of the teachers of Fusion Breeze V, the Tribal Fusion Bellydance festival in Ghent, Belgium organized by Teuta Dibriani. Shedriel taught 3 workshops of different levels and topics related to Tribal Fusion Belly dance technique with a specific focus on Bellyroll and Flutter.
In June 2019, she taught 2 classes of Argentinian Bellydance Style in Turin, Italy for students from different levels of Giselle Bellydance's school.
In 2020, due to the lockdown, she has started to teach online classes to many more students from around the world such as Italy, USA, Malaysia, Greece, France, UK, Scotland, Norway, Slovenia, Hong Kong, Spain, Greece, Netherlands, Puerto Rico, Switzerland, México, Russia, Belgium, Chili, Bolivia, Ecuador and Brazil.
She taught private classes and group pre-recorded and live classes. In September 2020, she teaches a special online workshop with a focus on Bellyroll and tummy Flutter for the advanced students of Giselle Bellydance's School in Turin, Italy.
She has also performed in different online shows from Spain, Russia, Netherlands, Belgium, Brazil, Chili, Venezuela, UK, USA and Argentina.
From June 2020 to September 2020 , she started to teach FCBD Style with Sword on the online platform: blackcatbellydance.studio created by Sol Calderón from México.
During this period, she keeps studying from many teachers such as Colleena Shakti (Indian Fusion Bellydance and Indian Aesthetic Theory Classes), Apsara (Qajar period Project with props: veil, doire and zangulleh zills; Persian Dance, Afghan Dance, Neoclassical Persian dance with scarves), Katarzyna Lidia (The Siren Society Project Flamenco inspired with Fan – ATS ® / FCBD ® Style dialect -), Miriam Peretz (Nava Dance, Afghan Dance and Raqs a Frame Drum), Roshana Nofret (Contemporary Persian Dance), Joana Gea (Russian Gypsy Dance, Manele, Hungarian, Rumanian dances, Turkish Roman, Balkan dance), Jillina (Bellydance), Amir Etemadzadeh (Percussionist), Kalbelia (Macarena Broda), Robyn Friend (Dances of Iran, Persian Dance Qajar Period, Costume: How to make a Qajar Hat), Helene Eriksen  (Ottoman Empire dances, Arab Andalus), Raki Khalbelya (Kalbelia), Amel Tafsout (Magreb dances, music, culture and history), Devi Mamak (Flamenco inspired steps), Helia Bandeh (Persian classical dance).
In June 2020, she won the 1st prize in the competition Indian Fusion Bellydance proposed by Colleena Shakti on Bwitches International Festival. In October 2020, she was interviewed by Zameena online magazine from UK.