$10,000 in cash, scholarships, and prizes
Competition registration is now open
November 5th and 6th 2022
Registration closes 10/15/22
Raks Sharki Spectacle  – Bring your show to the stage! Our Raks Sharki category is lifting up dancers who embody the grace, poise and personality of true Oriental Dance. Routine may include the use of finger cymbals and props such as veil, cane, melaya leff or shamadan, but will not deduct points if these are not included.


T

ime allowance: 4:30 min max.
Drumsolo Royale – Dynamic physical movements with precise musical interpretation, the drumsolo showcases the dancers' dedication to the details. Specialty two-part category where finalist will perform live on stage with our soon-to-be-announced special guest drummer.


Time allowance: 4:30 min-max for prelim entry.
Fusion – Creativity is the spice of life, and this category is for the dancer who wants to demonstrate a unique blend of moment and aesthetics. May include: Mahraghanat (electro-shaabi), ATS, Trans-National Dance or World Dance fusions, Acrobatics, and props like fan veils, swords, poi, etc. (No fire or animals.)


Time allowance: 4:30 min max.
MENAHT Folklore – Traditional and historical dances provide a valuable connection to the past and allow us to celebrate the vibrancy of the cultures they come from. This category is for the dancers who wish to present traditional or theatrical folklore from the Middle East, North Africa, Hellenic or Turkic cultures.


Time allowance: 4:30 min max.
Open Groups (2+ members)  – Performance is better together! Duets, trios and groups of four or more dancers are welcome to present in this open style category.


Time allowance: 5:30 min max.
Non-Competitive Categories
Rising Stars (14-19yrs, open style) A teen open style category for the dancing youth to share their emerging skills.
Time allowance: 3:00 min mix 
Initiates (non-competitive evaluation form, 3yr experience max) New dancers can take advantage of the rare opportunity to receive professional feedback on their live performance within this non-competitive category.
Time allowance: 3:00 min max
Grand Total of $10,000 in Cash, Prizes and
Dance Scholarships
Competitive Categories
$125 Winner / $75 1st runner up / $50 2nd Runner up
Overall Competition
$1,000 CASH PRIZE for Overall Top Score
$750 Overall 1st runner up
$500 Overal 2nd runner up
Corps d'elite – audience choice winner, selected from finale event
Non-Competitive Categories
Scholarships awards will be given presented to 4 chosen participants.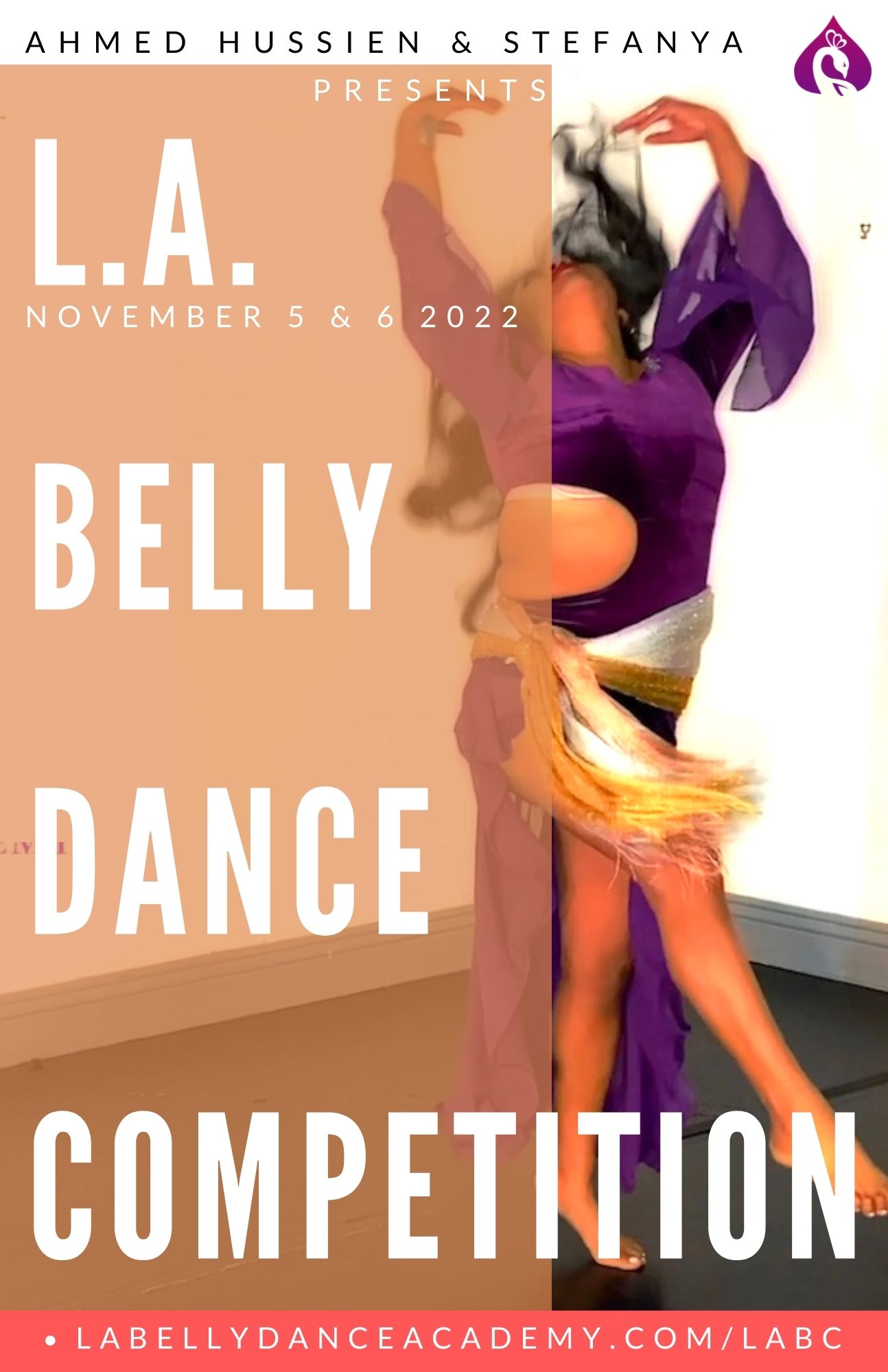 Round One
Preliminary Evaluations
venue: L. A. Bellydance Academy        1644 s. La Cienega Blvd. Los Angeles 90035
November 5th, 2022,
1:00 pm Master Class with Ahmed Hussien
2:30 pm – Prelims Begin 
Round Two
Finale Competition LIVE
venue: The Gate to the Mediterranian 16925 Ventura Blvd. Encino CA 
 November 6th, 2022,
3:30 Call time for contestants
4:30 Door open 
5:00 Show starts 
8:30 Award Cermony 
Thank you in advance for respecting yourself and others.
Registration payments are non-transferable and non-refundable
Your performance be no less than two mintues and no longer than three minutes and fifteen seconds in lenght.
To be register in our 2022 competition, you must complete this form and submit your online registration payment prior to 11:59 pm 10/15/22.
No nudity, No animals, No fire
Schedule subject to change
Ahmed Hussien
Ahmed Hussien is an undeniably iconic figure and a source of inspiration for dancers and teachers alike in the world of Classic Oriental and Egyptian Folkloric Dance. Ahmed's masterful and dynamic teaching method is the result of his absolute dedication to dance combined with his comprehensive experience in the area of performance and choreography. Ahmed is the ONLY Egyptian Dance Master to have Ballet, Belly Dance, Ballroom, and Broadway experience in his repertoire.